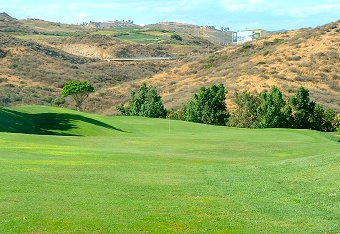 Hole Ten. (272 metres par 4)

The tee shot on ten is blind, but a long iron or three wood to the left of the fairway is ideal, as the fairway cambers and will carry the ball round to the right. From here, a good short iron is needed to reach the green below one. The left side of the green is banked, which gathers up the slightly wayward approach, and leaves one a birdie chance. The only trouble on this hole is the O.O.B. to the right off the tee, but long and left is where you want to be.

(c) 2005 all rights reserved, no part of this website may be re produced under any circumstances.