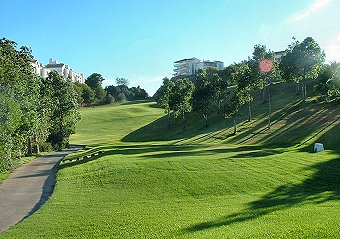 Hole Eighteen (238 metres par 4)

The finishing hole is blind from the tee. There is an option to go for the green in one, and it is reachable with a perfect drive, however the green is protected at the front, so the logic is questionable. The best approach is a good driver, with a bit of fade leaving a sand wedge to a large sloping green. This is not a difficult finishing hole, and at stroke index 14, allows a good chance of a par or better finish.

(c) 2005 all rights reserved, no part of this website may be re produced under any circumstances.