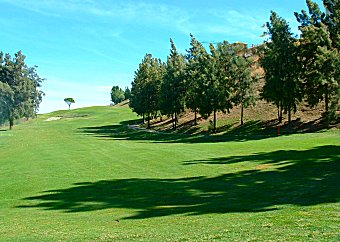 Hole Eight (277 metres par 4) ** Choice hole**

This is a good hole which needs thought through carefully. There is O.O.B and trouble all the way to the left. The fairway is narrow and yet it needs a driver to get up the hill to leave a shot to the green. To the right are trees and more trouble with red O.O.B. stakes, so a good tee shot is imperative and the fairway is a must. This achieved, a short iron to the green will leave one satisfied to have avoided the pitfalls of this hole. The view back to the tee with the mountains behind is superb.

(c) 2005 all rights reserved, no part of this website may be re produced under any circumstances.